Welcome to my Sports Illustrated/TIME magazine blog – Your collector's guide to the latest hobby updates and insight into what's trending now.
Sports Illustrated covers have an attraction like no other magazine.  Their photography is so over the top, so way ahead of their time, that many of their covers become etched in your mind after only seeing them once.  I have been reading and collecting SI's for over 50 years and from early on there has been a certain few that just stand out.  Once you see them – you never forget.  I am so captivated by these covers that I have decided to comprise a list of the 12 most iconic SI covers of all time.  The only qualifying criteria is that the esthetics must be a conversation piece.  The picture itself, not the athlete or the event or the value, must imprint an indelible image in your memory.  I will admit that I'm partial to pre-1980 covers for several reasons – (1) there seems to be more focus on the subject rather than 4 or 5 other story lines, (2) much less writing and advertising which distracts from the subject esthetics, and (3) the usually deep, brilliant colors peak your senses.
The list below represents some really awesome, indelible, great photography.  I hope you enjoy.
80 Hockey – The only comment I have for this one is that I bet you know where you were when Coach Brooks and a bunch of ragtag amateurs beat the Russians.                                                                                                                                         
65 Marichal – Every time I see this cover I think to myself – did he really pitch like that? – Check the Hall of Fame – and yes he did.                                                  
70 Butkus – The picture says it all. Message to the NFL – Don't mess with this guy.                                                                                                                                                 
56 Spahn – Beautiful color combination (I love red, white and blue), full extension, great concentration preceding the high leg kick.  This is how you win 363 games.                                                                                                                            
56-62-65 Mantle – The progression of every career.  The 56 head shot, perfectly captures the bright, young, true Yankee early in his career, followed by the Indispensable Yankee and finally the End of an Era.  The most iconic series ever printed.                                                                                         
66 McDowell – As with many of these covers, the picture says it all.  BTW – Faster than Koufax!                                                                                                                            
61 Maris – Interesting fact about this picture – this is the home run swing that sent 61 taters into the stands in 1961, but it took SI until October to feature this incredible feat.  There was as much stress in the face and there was in the muscles.                                                                                                                        
75 Swimsuit – Tiegs second cover.  This is the most captivating of all swimsuits.  The emphasis is spread across the beauty of not only the model, but the swimsuit, the crystal clear green water, and the background.  This one is perfect.                                                                                                          
54 Dog with pheasant – If you've ever experienced hunting with a dog, it's a thrill you'll never forget – perfectly captured here.                                                                   
10.74 Aaron – The long and winding road lead to this.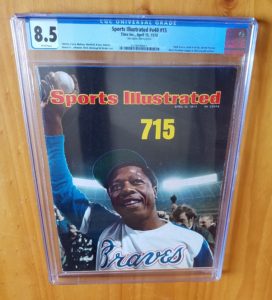 76 Clarke – If you can capture the allure of an entire sport in one picture, this is it.                                                                                                                                                    
84 Baseball Strike – Well said with just a picture.                                                                     
If you have your own nomination, send along to me (wylliejohn@yahoo.com) and maybe we'll expand the list.
I hope you are enjoying the reads on the history of TIME and SI magazines as well as an insight into relevant magazine collecting.
Great collecting to you and best fortunes with Sports Illustrated/TIME!