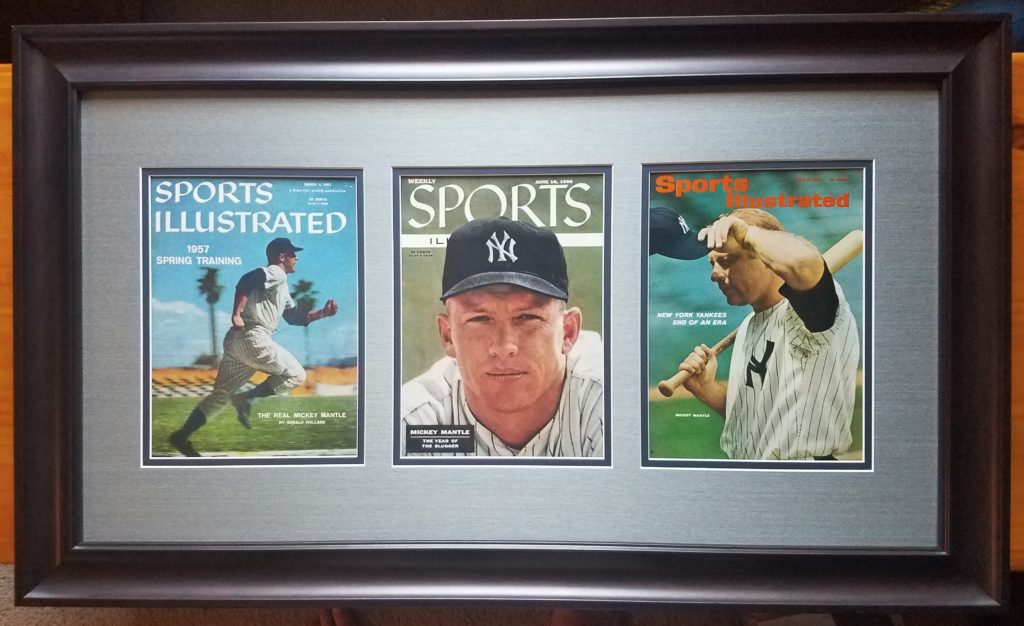 Welcome to my Sports Illustrated/TIME magazine blog – Your collector's guide to the latest hobby updates and insight into what's trending now.
Thanks for your SI interest.  It's on to the NCSS. 
Booth # 482
It's about time the graded magazine hobby made a splash into the National Sports Collector's Convention Show in Chicago July 31st week. No exhibitor has ever fully outfitted their exhibit with graded magazines. That tradition is coming to an end this year.
SportsIllustrated98 will be making its first appearance at the premier sports card show of 2019 with an exciting display of hundreds of your favorite Sports Illustrated covers, many graded POP 1 none higher.
Since 1979, the NCSS has provided a platform upon which collectors from all over the world could come to buy/trade baseball, football, and every other card known to man. If you're a sports hobbyist and want to learn more about what's out there – you'll find it here.
SportsIllustrated98 – that's me – will be booth #482. Our space will be furnished with the coolest, most colorful, most in demand graded SI's known to the hobby. The one's you've been asking about, your favorite player in the highest grade – all priced like the Model T – every home should have one. One caveat – most pieces are one of a kind and their grades will never be beaten – in my opinion. Once they're sold – they could be gone for a very long time. Collector's rarely turn over the best pieces.
My goal is to expand and draw recognition to the hobby – to put a graded magazine into the hands of every collector that wants one – big and small. There will be plenty of opportunities to make that happen.
Here is a sampling of the pieces on exhibit.
Note: Every cover is a complete, newsstand magazine. That's all you'll find here.
Hundreds of graded SI's with a guarantee to have at least 100 "POP 1, None Higher" included. All grades guaranteed.
Tons of first covers – The 2nd highest graded 56 Mantle SI and 53 TIME, the highest 36 DiMaggio and 49 Musial (TIME), the highest Brett, Schmidt, Brady, James, Tiger, Erving, 2nd highest Rose, 3rd highest Jordan.
Hundreds of the top 100, most in demand, raw SI first cover superstars – Mantle, Mays, Clay, Rose, Aaron, Clemente, Jackson, early Swimsuits, Brown, Unitas and all the rest – every superstar SI cover you can imagine – all encapsulated to protect condition forever! SportsIllustrated98 is the only seller that goes to this expense.
For the Mantle enthusiast – a really cool, triple mag set (Mantle's 56, 57, 65 mags), all in one frame, all high grade. Frame, High Tech Plexiglas (protects against sunlight), and mags professionally laid out and assembled specifically for this exhibit. You're gonna like this one. Special orders taken on other items for framing.
Special orders will be taken for graded and raw magazines back at the ranch.
No Ebay fees, taxes, or auction premiums. My pricing is competitive anywhere within the hobby. Discounts will be available on multiple purchases.
Send me a note (wylliejohn@yahoo.com) to reserve an appointment to discuss your interests, put together a deal, ask a question or perhaps you'd like my advice/opinion regarding the hobby. Sign up to receive my SI blog – the first and only on the web.
Everyone is invited – it's going to be a blast. Looking forward to seeing you at booth #482.
I hope you are enjoying the reads on the history of TIME and SI magazines as well as an insight into relevant magazine collecting.
Great collecting to you and best fortunes with Sports Illustrated/TIME!