Welcome to my Sports Illustrated/TIME magazine blog – Your collector's guide to the latest hobby updates and insight into what's trending now.
SportsIllustrated9.8 has just received the "2019 Registry Award for Outstanding Achievement on Building the Top Ranked Set in the CGC Registry".
Registries are an integral component of the card collecting hobby but virtually an unknown within the graded magazine hobby. It's time we changed that.
First, let's define what a registry is and its relative importance to the hobby. A registry is a set of graded items of any criteria – any items, any quantity, or any value that typically have some relationship to each other. For ex. – all SI baseball covers pre 1980 or, all SI Sportsman of the Year issues or, the top ten home run hitter SI covers – anything of interest to you and/or other collectors.
Most hobbyists like to showcase their collections. In many cases, considerable sums of time and money are devoted to chasing, locating, negotiating, organizing, comparing, displaying, marketing etc etc etc. one's collection in an effort become recognized as the leader or the best or the most valuable.
One way to achieve recognition is to submit your proposed registry (all or part of your graded collection) to CGC for certification and listing. Once your submission is confirmed and certified, CGC will add it to the appropriate category (with a title and include all submissions individually) within their overall registry list. Currently, there are 10's of 1000's of registries all vying for individual recognition.
Recognition follows as registries also receive a grade and are ranked according to values assigned to the individual grades. Each individual registry and each of its components can be viewed by any CGC society member. If you are interested in finding out who owns certain graded items or who collects items that may be of interest to you either to buy, sell, or compare, periodically checking the registry list is a good way to develop contact information. In this way, registries help organize the hobby and any contribution in this area is a good thing.
SportsIllustrated9.8, that's me, won this year's Magazine Category, for its submission of the first 25 years of the highest graded Sports Illustrated Swimsuit Issues. You can locate the issues and grades achieved in the current registry list, if interested. I will be submitting more SI registries throughout the coming year as a way to further organize and promote the hobby.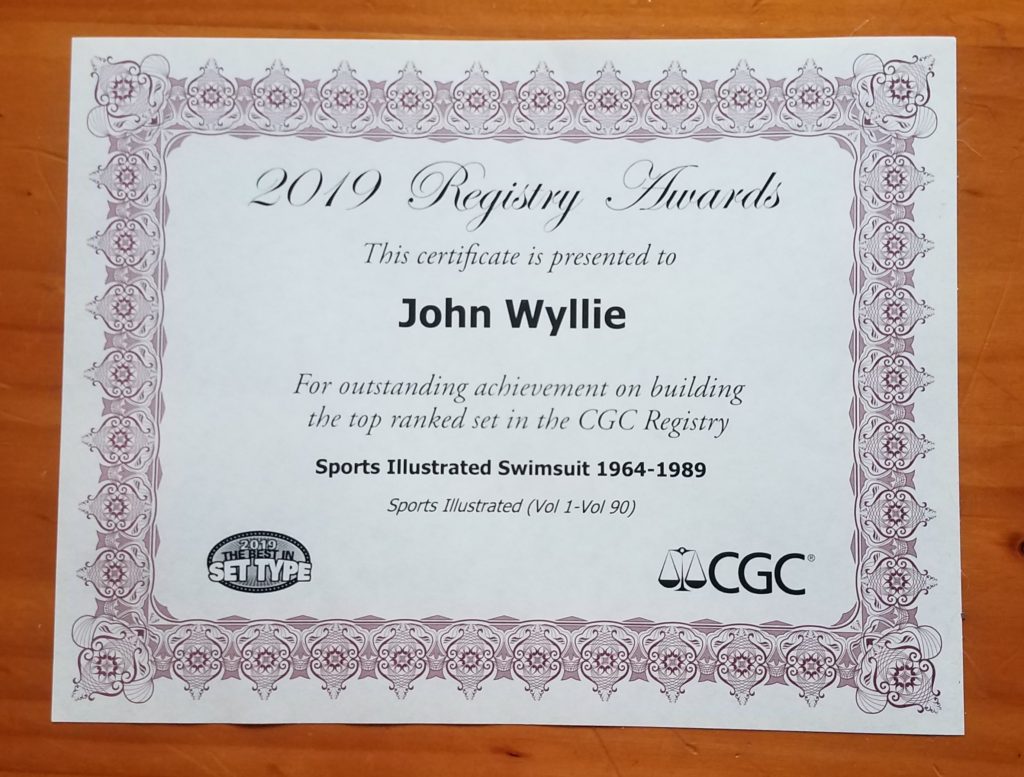 I hope you have found this information helpful in your pursuit of all things Sports Illustrated. If you would like to know more about CGC registries feel free to contact me with any question you might have.
I hope you are enjoying the reads on the history of TIME and SI magazines as well as an insight into relevant magazine collecting.
Great collecting to you and best fortunes with Sports Illustrated/TIME!